This morning (Tuesday) it dawned on me that the race is NEXT WEEK!!!!!!!!! How the flip did that happen? Am I ready? Can I do anything about it if I'm not? The nicest thing today is that the RSPCA have finally set up my online giving page (if I'm going to put myself through this pain it might as well be for a good reason!), and already some lovely kind people have sponsored me. This will be a great motivator on the day.
Tuesday's tapering run was a mere 40 minutes, but with a twingy ankle this felt about right. I managed better on Wednesday as I had one last hill-sprint session planned, which ended up being 5 miles long! On the first hill sprint (10 second bursts up St George's Lane!) I felt really rubbish – it had been a busy and stressful day, and I was tired, dehydrated and not feeling the love. If I hadn't had company (the lovely Simon D & Eileen this time) I would quite honestly have stopped and gone home… probably in tears! However, I didn't stop (or cry!), I just took it a lot easier and made them do the hard work (haha!!!) and kept going. It was actually a really nice run in the end, and I had no ankle pain at all – which was a great feeling J
Thursday was unusual. We couldn't manage the IOWRR's session later in the evening so ran straight after work, and I had the good fortune to have my marathon buddy Deb join me, along with some other dear friends. I had a very hilly route planned – making the most of the pretty routes out in the country before the dark evenings descend – and it was 7 miles; the most I have ever done after a day at work. Wow – it felt good! We took things gently and steady, and plodded up the hills (even though Simon D. was itching to do more sprint reps!). Just one moment of ankle pain near the end, but as this was in my left foot (the one I call my "dodgy ankle") it was acceptable and no cause for alarm! Everything good with the right leg, so hoping it will be pain-free on the big day.
A family birthday on Friday meant no run (same on Saturday as usual), and so the last run of the week was a mere 7.5 miler on Sunday – the shortest distance I have done on a Sunday for 15 weeks! To make a change, and as the runs are meant to be gentle now, we decided to head over to Sandown and run along the Esplanade to Shanklin. Lovely Ian, Keith and Simon joined Deb, Sarah, Coral and I, and we were also surprised by the Cooper family joining us for a few miles at Hopes Cove… the most surprising thing was that the Coopers, Coral and Simon D. had all participated in the very hilly Queensgate 10 Miler the day before too!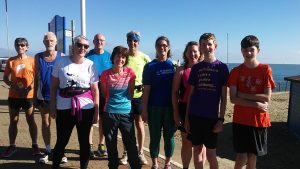 We decided on the sea-wall path to the Chine (where we got some surprisingly brisk pacing going!), up some very steep inclines to the Old Village (I'm not ashamed to say I walked a lot of that!), and then back to Sandown via the cliff path – something much more undulating than I remembered! Despite the small distance I found it surprisingly hard and felt as if I had no energy at all, which was a bit disappointing, but I guess it was just a culmination of 15 weeks of more intense training than I have ever done. I also had a few painful ankle issues, but mainly on the rare occasions I tried to improve my running form by picking my heels up higher and improving my stride… a lesson learned! I run in a very particularly way due to my hips and back problem (basically I "run like a girl" with my knees in and my feet out at bizarre angles!), and I hate seeing photos of myself "in action" because of this, but if that's what my body wants I'm more than happy to continue to do it to get me round safely!
This last Sunday run of the training was good. It was a beautiful day and a beautiful run, in the most lovely company, and the countdown now starts for the BIG DAY! Hope you can join me next time 🙂