Over the years we have discovered that there are many runners who do not have the confidence (yet!) to join a "proper running Club", but would love the opportunity to do a regular run with other like-minded people in a relaxed and friendly environment. There are also a lot of people who would like to start jogging/running but do not know where to start, or don't want to run on their own. I therefore started a social running group in 2012 aimed at such people, and in 2013 both Simon and I achieved our Run England "Leadership in Running Fitness" qualifications.
In July 2013, the "Love Running Tuesday Nighters" was born – a fully licensed and registered Run England running group for adults and adolescents (over 12s) of all abilities.
We meet at 5.50pm (sign in for a prompt 6pm start) on Tuesday evenings at the St Mary's Hospital Helipad car-park, and anyone is welcome to join us; particularly beginners and novice runners (beginners should check with their GPs first that they are healthy enough to begin jogging).
There is a choice of 3 distances every week; a 1.5 mile jog/walk for beginners, an intermediate group of around 3 miles and a 4-5 mile run for more advanced runners. The route changes every week, and route maps are emailed to all signed-up members in advance.
YOU DO

NOT

NEED TO BE A "FAST" RUNNER TO BE IN THE ADVANCED GROUP!
The emphasis is on the social and fun aspect of running together – rather than speed and distance – and it is about building confidence and offering a stepping-stone to those wishing to improve or join a running Club. It is completely free to take part, though you will be asked to complete a RunTogether (the new 2017 name for Run England) membership form after a couple runs to ensure that you are covered by my Run England Public Liability Insurance.

2016 Awards
2016 was quite a year for the group! In February we were nominated for a local "Community Action Award", and we won our "Sports" category, plus a cash prize of £300 which helped to buy the group "Back-marker" safety bibs, gifts for the key volunteers, munchies at our 5th anniversary event and cover a lot of our admin costs for the past few years 🙂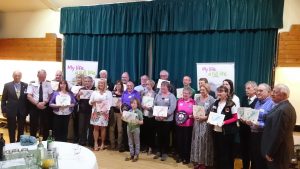 In the summer we were amazed to win the "Run England Running Group of the Year" regional finals for the south/south-east of England, and former Olympic athlete Christine Benning visited us on a Tuesday night to present the award on behalf of Run England: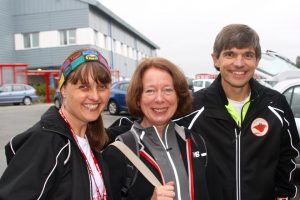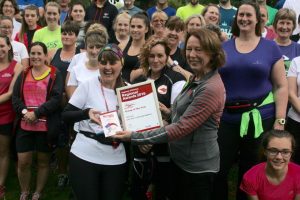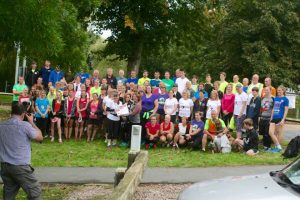 In October 2016 we learned we had actually WON the nationals too, making the Love Running Tuesday Nighters the "Best Run England Running Group in the UK for 2016"! Lovely Neil Deans from Sport England came down to present our award, but as it was late October it was our Hallowe'en run!!
Neil not only approved of the fun-run and dressing up, but brought his family along in fancy-dress to join in too!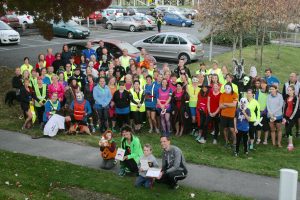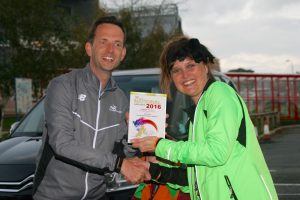 Our routes tend to be pavement-based, although we use some footpaths and cycletracks in the summer months, so road-running shoes are best.  Headphones are not permitted for safety reasons, and also because it a social running group with the emphasis on mutual support and encouragement. Chatting is definitely encouraged!
All runners are asked to wear
high-viz
and/or reflective bibs during the dark months for their own safety, and every runner is requested to sign in and out every week so I can ensure we don't lose anyone!
Leave your worries at home and come and join the fun!