Welcome to our reviews page, where we will tell you about products and books we particularly like and which we think you might be interested in to!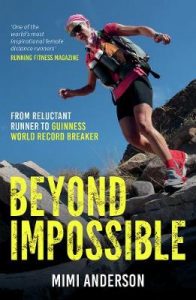 Beyond Impossible by Mimi Anderson
What attracted me to this book was the promise that it was written by someone who describes herself as "ordinary" and only started running in her late 30s – maybe someone I could relate to even though I am not an ultra-runner myself. Mimi's name had come up in a few other books about the ultra-running scene, so I knew in my heart that she must be somewhere on the awesome scale, but I was unprepared for just how AMAZING this woman turned out to be…. and ordinary she definitely isn't!
Before embarking on her road to ultra-running fame Mimi bravely recounts the terrifying child abuse she suffered aged 6, which later led to the anorexia that plagued her adolescence and early adulthood and almost killed her. She describes with great honesty how running made her change how she viewed food and possibly saved her life as a result.
From Mimi's first ever joyful outdoor 10 miler to her latest world record-breaking run, the book sweeps you along. Mimi has completed the hardest races you will find, including the Marathon des Sables, the Badwater Ultra (fans of Scott Jurek will know all about this!) and – phenomenally – all 840 miles from John o'Groats to Lands End in the fastest ever time by a woman! Mimi doesn't set out with bravado, arrogance or a need to win, she just wants to do these (crazy?) things and be the best she can be, and sets her mind to it in a very matter-of-fact way. By the time you finish reading you will feel as if anything truly is possible.
If I had one criticism about the book it is the lack of photographs of Mimi in action…  I for one would love to have seen Mimi and her pals in their sparkly dresses in the Sahara Desert!
Beyond Impossible is on sale in our shop for £9.99
JR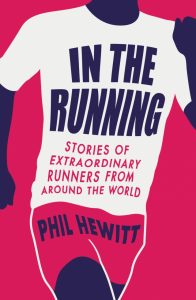 "In the Running"  by Phil Hewitt
I was very much looking forward to reading this, as I very much enjoyed Phil's debut book "Keep on Running", charting his own personal journey from couch potato to marathon runner.
"In the Running" is totally different as Phil reflects on other runners and amazing running accounts from all around the world this time. Read the inspiring stories of runners who have overcome physical disabilities or terrible illnesses to pound out the miles; the emotional journeys of those affected by acts of terrorism or natural disasters, the world speed and age records and extraordinary feats of ancient and modern athletes.
My favourite section highlighted the oldest known marathon runners and their personal stories, where you get to meet awes-inspiring people like Fauja Singh; the 100 year old marathon runner who cannot appear in the Guinness Book of records as he has no birth certificate, and Sister Madonna who is nicknamed the "Iron Nun" because she has completed an incredible 45 Ironman triathlons (plus lots of marathons!) and became the oldest woman to complete an Ironman when she was 75!
Uplifting, inspiring, emotional and thought provoking, this book is something ALL runners can relate to and enjoy, and it leaves you thinking that there might just be time to fit in a few miles before work…..
In the Running is on sale in our shop for £9.99
JR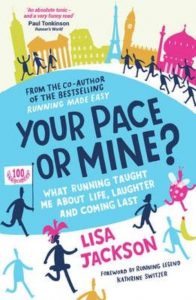 "Your Pace or Mine?" by Lisa Jackson
I first came across this book when it was lent to me by a friend. Being a slow runner myself I was intrigued by Lisa's tagline on the front cover; "What running taught me about life, laughter and coming last", hoping that slow runners everywhere would find themselves validated as "proper runners" in Lisa's eyes…and she didn't let me down!
Lisa had – at the time of writing the book – completed 90 marathons, finishing last 20 times without any worry at all. She has also completed several Ultra-runs – including the amazing "Comrades Marathon" in South Africa – proving that speed is no definition of a "good runner".  I myself have always found that I get more from a run – whether a training session or a race – when running with other people; enjoying the views; commenting on the things we spot along the way; putting the world to rights; helping and supporting if someone if struggling, or being helped and supported if I am struggling… and it turns out that Lisa is the same!
Lisa's talks candidly about her running experiences; how the deaths of loved ones inspired her, about her choice of marathon head-wear and race nutrition, about the amazing people she has met along the way, and even to how to wee on the run!
As I approach my first marathon, in which I fully expect to be the last to cross the finish line (hand in hand with my friend Deb), Lisa's book tells me that this is not a problem or a stigma. If anything, Lisa points out that as we will have been on our feet running for longer than the other racers we are actually more hardcore! She refers to us as the "slowest winners", and has helped to give me the confidence to take part when others might sneer or look in horror at such a proposition.
If you are a slower or newer runner and feel daunted by long distances, do read this book. You don't have to be an athlete to run, to race or to feel the benefits of long distance running…. you just have to be YOU!
Your Pace or Mine is on sale in our shop for £9.99
JR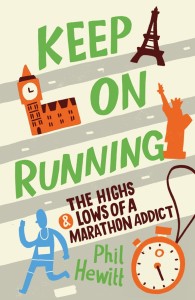 "Keep on Running"  by Phil Hewitt
Simon has done several marathons and could therefore relate to all the "highs & lows" described by Phil in this well-written, sometimes humorous and always interesting account of Phil's journey into becoming a self-confessed "marathon anorak"! On the other hand, I have not yet tackled this most inspiring of distances, but was still swept along by Phil's descriptions of the places, the atmospheres, the pre- and post-race feelings, and the joys, victories and disappointments along the way.
From the well-known London, Berlin and New York marathons to the less exotic but potentially harder "Steyning Stinger" and "Clarendon Way" marathons – asthmatic Phil's passion is clear to see as he battles the weather, endless hills, polluted air, mile/km conversions, mud, mindless routes and – most of all – himself as he seeks that all elusive personal best. The IOW marathon gets a mention too!
Keep on Running is on sale in our shop for £9.99
JR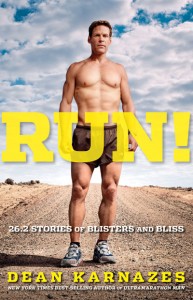 "Run! 26.2 Stories of Blisters and Bliss" – by Dean Karnazes
It is safe to say that Dean Karnazes – already something of a legend in his native USA – is a one-man running phenomenon!  This often funny and very inspiring book recounts Dean's passion of long – and I mean long! – distance running, including his many experiences of night running, and the characters and incidents he encounters along the way. It also includes stories of his long-suffering but ever-supportive friends and family (particular his lovely Dad!), but the highlight for me was a particularly inspiring and glorious account of a training run in the shadow of the Golden Gate bridge… I challenge anyone to read the account and NOT want to be there running too!
JR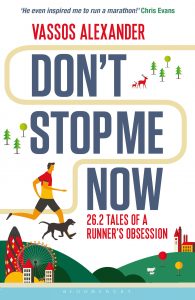 "Don't Stop Me Now!" by Vassos Alexander
I was already a fan of Radio 2 Sports Presenter Vassos, and love hearing him discuss his running exploits. The fact that he turned non-sporty DJ Chris Evans into a marathon runner too is very inspiring!
This book is a well written and descriptive look into how Vassos got started, the experiences he has hated, enjoyed and learnt from, and his journey from running as a health choice (to lose the pounds he put on due to his "frazzles" addiction!) to an obsession. Stories and anecdotes from Vassos and guest contributors are skilfully wound around 26 (point two!) chapters – each chapter starting with the next painful mile Vasso experiences on his first ever "Outlaw" Ironman Triathlon.
My favourite part of all – apart from reading about Vassos' joy of running on the IOW of course – is the contribution made by his kids at the end…. brilliant!
JR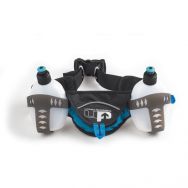 Ultimate Performance "Airaforce 2"
Now I HATE carrying anything in my hands when I run, but in the hotter months it is important to carry water (and door keys!) with you – particularly if you are venturing out into the green yonder and avoiding towns. The "Airaforce 2" suits me perfectly – two beautifully balanced and reassuringly secure 300ml bottles nestled inside a comfortable and lightly padded adjustable belt, with a small pocket for those little extras you might need. It also features reflective trim to help keep you visible on darker runs. £20 and in-store now!