After 2 great years of song lyric chasing, the NBA wanted to bring you something different in 2017 – something for ALL ages to enjoy….
We give you…. The Elf Days of Christmas!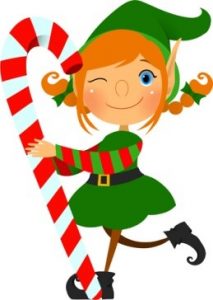 In the windows of 26 Newport shops this December you will spot a mischievous Elf.
Furnish yourself with a free entry form from any of the participating shops (see below)           and let the competition begin!
STEP 1: Find all 26 elves and write their names correctly on the entry form against the shop in which they are found
STEP 2: Rearrange the FIRST LETTER of each name to complete the title of a very popular festive film!
STEP 3: Add your details and drop the completed form off at the County Press Offices (Pyle St) or here at Love Running by 5pm on Thursday 21st December
The Prizes
Cineworld Newport have very kindly provided us with 4 free cinema tickets, and these are our star prize this year 🙂  We also have a hamper donated by Caffe Isola, £50 worth of vouchers from Readers Interiors, vouchers from Bayliss & Booth, a beautiful calendar from Available Light Gallery, a children's gift from Forget-me-Not, a slow cooker courtesy of W Hurst & Sons and wine from Eldridges Solicitors so far!
Our grateful thanks to all who have donated 🙂
Terms & Conditions
There are not many rules, but here they are:
Competition starts on Saturday 2nd December 2017 and closes on Thursday 21st December 2017. Entry forms received AFTER the closing date will not be counted
Only one entry accepted per address
Entry forms must contain only correct Elf names (including spelling). Incorrectly recorded names, or forms with missing names, will not be counted!
Only forms with 26 corect elf names plus a correct anagram answer will go into the prize draw. If no-one gets the anagram right the closest answers will go through
Prizes cannot be posted
Only official entry forms must be used – these are free and available from all the participating shops and at the County Press offices in Pyle Street.
Entry forms must be dropped in to Love Running or the County Press, and not left with other shops – UNLESS that shop offers to deliver it for you. This is at your own risk!
You must enjoy and appreciate every elf – all of whom have been lovingly made by Mandy Rawlings at Bijou Hairdressing. When you visit Bijou to find their beautiful elf please say thank you to Mandy!